Limiting phone charge using Home Assistant and Node-RED
One of the biggest annoyances I have with my Samsung S10e is it's idle power draw. Overnight when not being used it's drains close to 30% of it battery capacity. As a result I have to leave the phone plugged in overnight. This was a habit I lost when I had my Oneplus phones. Having some concerns about the long term effects on the phones battery I thought I could use Home Assistant to help.
Items needed:
Smart plug. I used a Sonoff S26 but any will work.
Home Assistant app installed on the phone you are charging.
The app is needed because it reports your phones battery level to Home Assistant as a sensor input.
The key tool to complete the task is Node-RED which makes it easy to draw up the logic needed.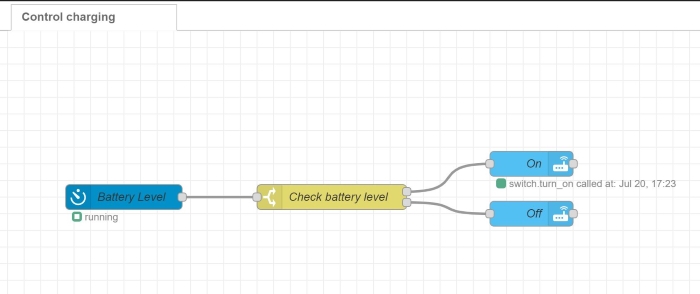 The nodes are:
Battery Level - a poll state node which checks the phones battery level every 5 minutes.
Check battery level - a switch node.

If the phone has less than 60% battery output 1 (On) is called.
If the phone has more than 80% battery output 2 (Off) is called.

On - a call service node which turns the smart plug on.
Off - a call service node which turns the smart plug off.
Now my phone will charge to 80%, then the plug will turn off. If the phone drops below 60% the plug will turn back on again.
I have a similar plan to do this for my laptop. As I am currently working from home it is constantly plugged in at 100%. To achieve the same logic I need to investigate how to publish the battery level to Home Assistant as there is no native app like there is for a smartphone.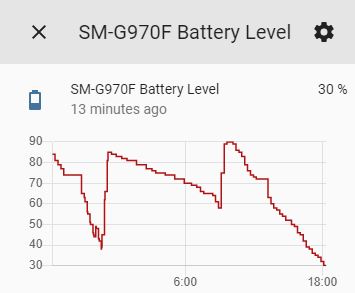 After running overnight the graph shows the automation in action:
22:39 - 38% - Phone put charging
23:15 - 85% - Automation turns off plug to stop charging
08:55 - 58% - Charge dropped to less than 60%, plug turned on
09:40 - 90% - Automation turns off plug again
This is the JSON of the flow which can be imported:
[


    

{


        

"id"

:

 

"80777ff5.e80f"

,


        

"type"

:

 

"tab"

,


        

"label"

:

 

"Control  charging"

,


        

"disabled"

:

 

false

,


        

"info"

:

 

""


    

},


    

{


        

"id"

:

 

"3cf91d3c.f6ae72"

,


        

"type"

:

 

"poll-state"

,


        

"z"

:

 

"80777ff5.e80f"

,


        

"name"

:

 

"Battery Level"

,


        

"server"

:

 

"81a8849.12fa778"

,


        

"version"

:

 

1

,


        

"exposeToHomeAssistant"

:

 

false

,


        

"haConfig"

:

 

[


            

{


                

"property"

:

 

"name"

,


                

"value"

:

 

""


            

},


            

{


                

"property"

:

 

"icon"

,


                

"value"

:

 

""


            

}


        

],


        

"updateinterval"

:

 

"5"

,


        

"updateIntervalUnits"

:

 

"minutes"

,


        

"outputinitially"

:

 

false

,


        

"outputonchanged"

:

 

false

,


        

"entity_id"

:

 

"sensor.sm_g970f_battery_level"

,


        

"state_type"

:

 

"num"

,


        

"halt_if"

:

 

""

,


        

"halt_if_type"

:

 

"str"

,


        

"halt_if_compare"

:

 

"is"

,


        

"outputs"

:

 

1

,


        

"x"

:

 

160

,


        

"y"

:

 

200

,


        

"wires"

:

 

[


            

[


                

"c6305754.9fdb18"


            

]


        

]


    

},


    

{


        

"id"

:

 

"c6305754.9fdb18"

,


        

"type"

:

 

"switch"

,


        

"z"

:

 

"80777ff5.e80f"

,


        

"name"

:

 

"Check battery level"

,


        

"property"

:

 

"payload"

,


        

"propertyType"

:

 

"msg"

,


        

"rules"

:

 

[


            

{


                

"t"

:

 

"lt"

,


                

"v"

:

 

"60"

,


                

"vt"

:

 

"str"


            

},


            

{


                

"t"

:

 

"gt"

,


                

"v"

:

 

"80"

,


                

"vt"

:

 

"str"


            

}


        

],


        

"checkall"

:

 

"true"

,


        

"repair"

:

 

false

,


        

"outputs"

:

 

2

,


        

"x"

:

 

410

,


        

"y"

:

 

200

,


        

"wires"

:

 

[


            

[


                

"7be1508f.e2ddf"


            

],


            

[


                

"e55ee01f.6beed"


            

]


        

]


    

},


    

{


        

"id"

:

 

"7be1508f.e2ddf"

,


        

"type"

:

 

"api-call-service"

,


        

"z"

:

 

"80777ff5.e80f"

,


        

"name"

:

 

"On"

,


        

"server"

:

 

"81a8849.12fa778"

,


        

"version"

:

 

1

,


        

"debugenabled"

:

 

false

,


        

"service_domain"

:

 

"switch"

,


        

"service"

:

 

"turn_on"

,


        

"entityId"

:

 

"switch.sonoff_100065c641"

,


        

"data"

:

 

"{

\"

entity_id

\"

:

\"

switch.sonoff_100065c641

\"

}"

,


        

"dataType"

:

 

"json"

,


        

"mergecontext"

:

 

""

,


        

"output_location"

:

 

""

,


        

"output_location_type"

:

 

"none"

,


        

"mustacheAltTags"

:

 

false

,


        

"x"

:

 

650

,


        

"y"

:

 

160

,


        

"wires"

:

 

[


            

[]


        

]


    

},


    

{


        

"id"

:

 

"e55ee01f.6beed"

,


        

"type"

:

 

"api-call-service"

,


        

"z"

:

 

"80777ff5.e80f"

,


        

"name"

:

 

"Off"

,


        

"server"

:

 

"81a8849.12fa778"

,


        

"version"

:

 

1

,


        

"debugenabled"

:

 

false

,


        

"service_domain"

:

 

"switch"

,


        

"service"

:

 

"turn_off"

,


        

"entityId"

:

 

"switch.sonoff_100065c641"

,


        

"data"

:

 

"{

\"

entity_id

\"

:

\"

switch.sonoff_100065c641

\"

}"

,


        

"dataType"

:

 

"json"

,


        

"mergecontext"

:

 

""

,


        

"output_location"

:

 

""

,


        

"output_location_type"

:

 

"none"

,


        

"mustacheAltTags"

:

 

false

,


        

"x"

:

 

650

,


        

"y"

:

 

220

,


        

"wires"

:

 

[


            

[]


        

]


    

},


    

{


        

"id"

:

 

"81a8849.12fa778"

,


        

"type"

:

 

"server"

,


        

"z"

:

 

""

,


        

"name"

:

 

"Home Assistant"

,


        

"addon"

:

 

true


    

}




]